As new video capabilities and standards emerge, defense agencies and first responders, globally, increasingly deploy video technology for an ever growing range of force multiplying applications such as:
Enhanced visual situational awareness in the tactical battle space
Live video streaming to the tactical operator at the edge
Video Surveillance for force protection
Manned and Unmanned Intelligence and Reconnaissance platforms with video sensors
Critical components in these systems are Cornet Technology's IP-based, high- and standard-definition (SD and HD) encoders, decoders, recorders, and video streaming servers (VSS) designed to meet government/military standards for compression and streaming and quick and easy playback for viewing in harsh operational environments. Our complement of video products fulfill roles in airborne, ground, and sea surveillance; video distribution; and video sharing systems.
Airborne Surveillance
P3 Orion's are utilized by militaries worldwide for Intelligence, Surveillance, and Reconnaissance (ISR) missions at home and abroad. Over the last 9 years, Cornet Technology's iVDO family of airworthy encoders, decoders, and recorders have played a small but vital role in P3 Orion missions for a number of countries. Our standard (SD) and high definition (HD)H.264 encoders compress and transport motion video, audio and metadata from a wide range of video sources including electro-optical, infrared, and thermal cameras. This video and associated metadata, along with accompanying audio, are combined with information from other ISR information sensors to provide commanders with unparalleled situational awareness in today's increasingly asymmetric warfare. Our storage and playback systems record, store, and playback multiple digital motion streams in compliance with STANAG 4609. Like our encoders and decoders, these network video recorders (NVRs) meet all required safety and environmental specifications for airworthiness.
Shipboard – Video Distribution
At sea, Cornet Technology iVDO encoder family plays a vital part in naval electro-optical tracking and fire control systems aboard US Navy destroyers and a member of the optical and electronic mast system on select submarines. Providing standard definition H.264 encoders accepting both composite and RGsB streams for low-latency digital video distribution.
Ground
Video usage in ground warfare and incident management is on the increase specifically in the areas of situation awareness, surveillance, video sharing, and video distribution.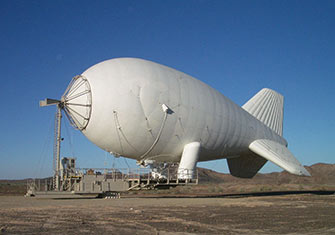 In the area of video surveillance/situational awareness, Cornet Technology's video encoders and decoders are deployed as part of the Army and Marine Corps' Rapid Aerostat Initial Deployment / Ground-Based Operational Surveillance System (RAID/G-Boss) safeguarding forward operating bases (FOB), improving surveillance in day and night and accelerating response to evolving threats.
Our encoders and decoders aid in the efficient distribution of multiple PC graphics and video signals to display walls within Air/Missile Defense Planning and Control System (AMDPCS) mobile command centers enabling brigade commanders to monitor and control engagement operations by their battalions.
Video Streaming Server (VSS)
Last-mile real-time video distribution
Real-time video distribution for battlefield and emergency management situational awareness requires a large bandwidth pipe. The integral VSS card in our TVCS InterConnect combined with an LTE deployable tactical cellular system is an example of our integrated video streaming capability. The VSS is capable of receiving Full Motion Video (FMV) from field receivers and distribute the live feeds to ground commanders as well as the disadvantaged soldiers on their smart devices, all in real-time. The VSS can also receive a live video stream from a warfighter or first responder's authorized smartphone and re-stream it to others within the LTE bubble or upstream to commanders connected to the IP WAN backhaul network. The solution, another force multiplier from Cornet Technology for military and emergency management personnel, is easy to use, SWaP superior and builds on the deployed capabilities.