Defense and Aerospace ISR applications require solutions in area of IP video encoders and decoders that utilize the latest in off-the-shelf video and data communications technology modified to fit specific environmental and mission needs. Cornet's IP video encoders decoders and recorders offer high fidelity processing of video, voice and data.
For over 20 years Cornet Technology has specialized in customizing modern video, voice, and data technology to fit the precise needs of customers such as the U.S. Navy, Air Force, Marines, Army, NASA, and the FAA. Our customizable commercial off-the-shelf (COTS) solutions encompass IP-based, standard and high-definition, low-latency, rugged/non-rugged video encoders, decoders, and network video recorders, and playback products.
Cornet Technology's iVDO family of single- and multi-channel video Encoders/Decoders supports the rigors of air, sea, and ground applications with products targeted at military and commercial Intelligence, Surveillance, and Reconnaissance applications. These future-focused video encoders and decoders employ the latest IP, compression, and resolutions while keeping a finger in the past to support analog applications and their migration to fast transport technologies. The company's iVDO family of video encoders and decoders are available in single and multi-channel, rugged and non-rugged versions.
Single Channel Video Encoders and Decoders
CTI's single-channel video products provide unique features and benefits to a market less-sensitive to competitive pricing pressure. CTI's video solutions are currently deployed and in use for air (manned and unmanned aircraft), sea (ships), and ground surveillance as well as ground control stations.
Multi-Channel Video Encoders/Decoders
Cornet Technology's multi-channel iVDO video IP-based standard and high definition encoders and decoders are designed, engineered, and tested to meet the exacting requirements of air (manned surveillance planes), shipboard, and ground Defense and Aerospace Surveillance applications.
Video Encoders / Decoders
Cornet Technology, Inc. offers iVDO family of  MPEG-4, MPEG-2,  H.264 video encoders and decoders.
The range offers a choice from standard definition, high definition, and AAC audio encoding. Cornet offers rugged versions for airborne and seaborne applications. The video encoders decoders come in compact form sizes optimized for SWaP for custom use. All encoders decoders support frame, field, and adaptive coding types.
The encoders offer IP streams as output which can be further multicast or unicast depending on application. The equipment an accept metadata which can be transported with an independent program identifier in the transport stream.
Our single and multi channel video encoders excel in the surveillance arena where high definition megapixel SDI/HD SDI/DVI/composite cameras require encoding to multiple formats for transporting video over IP or MPLS networks. Many encoders support extended operating temperature range.
Management of  encoders and decoders is easy through a web browser, SNMP or command line interfaces for advanced programmers. 
Video Recorders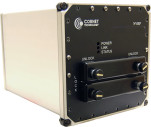 Demanding aerospace applications require solutions that provide optimal performance in harsh environments. Meeting this requirement is the rugged iVDO NVRP (Network Video Recorder/Playback) that records, stores, and plays back up to six MPEG-2 and/or H.264 video streams along with audio and metadata. the unit's simultaneous recording and playback feature enables users to view live and stored video … Continue reading iVDO NVRP – Network Video Recorder/Playback
More Information
Learn About Other Cornet Products and Solutions
C4ISR Solutions Networking Video
Circuit to Packet Solutions Radio Crossbanding Tactical Switches
Tactical Computers Tactical Network Nodes Tactical Voice Terminals
Vehicle Communication Video Encoders/Decoders/Recorders Patch Panels A/B Switches
Home