Circuit to Packet Solutions
The IPGate family makes it possible to preserve existing mission critical legacy (TDM and Circuit-based) networks by providing circuit to packet transport using circuit emulation over IP technology. Many members of IPGate family are JITC certified circuit to IP gateways. The IPGate, with its large set of supported interfaces and the gigabit backplane, delivers a future-proof network migration path to IP and MPLS. The CESoP (Circuit Emulation Services over Packet) and SAToP (Structure Agnostic TDM over Packet) standards based protocols enable preservation of legacy circuits till they get sun-set. 
The  IPGate-HD32 and IPGate-MG50 are scalable Everything over IP gateways, targeted for for IP and MPLS networks respectively are ready to be deployed in a wide variety of mission solutions. These legacy over IP models present built-in redundancy of controller cards, network connections, and power supplies, making them prime candidates for 24×7 applications. IPGate-MG50 provides a robust solution for circuit emulation over MPLS in consistent high speed scenarios.
IPGate-NED is suitable for network edge IP gateway applications to carry typically upto 16 serial circuits.
Cornet's device management platform, IntelView, is a user-friendly easy-to-use  GUI application delivering a comprehensive client-server management architecture. 

The IPGate technology offers features that reliably transport legacy Time Division Multiplexing (TDM) and other circuit-based applications over IP/Ethernet or VLAN packet switched networks. Using Circuit Emulation Services over Packet (CESoP) and Structure Agnostic TDM over Packet (SAToP) standards, the IPGate supports a wide variety of legacy analog and digital interfaces at configurable data rates ranging from 50 bps to 52 Mbps. … Continue reading IPGate-HD32R – Legacy Circuit to IP Gateway
More Information

The IPGate NED, a network edge IP gateway, is a compact member of the IPGate product family designed for use in network edge applications. Like its larger family members, the IPGate-NED reliably transports legacy Time Division Multiplexing (TDM) and other circuit-based applications across converged IP networks therefore delivering the cost, efficiency and reliability benefits of IP migration using … Continue reading IPGate-NED – Network Edge IP Gateway
More Information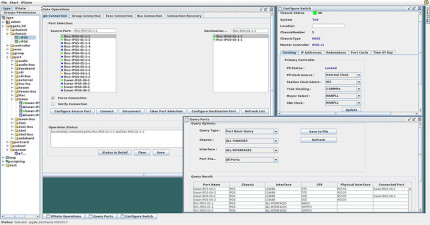 Command and Control Software IntelView™, Cornet Technology's management and control platform, easily manages and controls a variety of Cornet Technology products. The platform receives SNMP traps from all SNMP enabled devices through a simple to use and understand user-focused interface. IntelView's modular architecture is easily customized to address each Cornet Technology product's specific management and control demands … Continue reading IntelView™ – Command, Control and Management Software Platform
More Information
Learn About Other Cornet Products and Solutions:
C4ISR Solutions                                  Networking                             Video
Radio Crossbanding                            Tactical Switches                    Tactical Computers                             
Tactical Network Nodes                     Tactical Voice Terminals          Vehicle Communication          
Patch Panels A/B Switches                 Video Encoders/Decoders/Recorders    
Home