The IPGate technology offers features that reliably transport legacy Time Division Multiplexing (TDM) and other circuit-based applications over IP/Ethernet or VLAN packet switched networks. Using Circuit Emulation Services over Packet (CESoP) and Structure Agnostic TDM over Packet (SAToP) standards, the IPGate supports a wide variety of legacy analog and digital interfaces at configurable data rates ranging from 50 bps to 52 Mbps. The IPGate Legacy Circuit to IP Gateway lets customers easily and reliably take advantage of converged IP networks to transport legacy circuits.
Specific to the IPGate family is a Gigabit Ethernet backplane and distributed architecture which makes the IPGate a future-proof investment with a virtually unlimited variety of supported
interfaces.
The IPGate unit's distributed architecture allows any-to-any connectivity between ports and devices enabling a user to create circuit connections over various interface types.
See IPGate-MG50 for Legacy Circuit to MPLS Gateway solution.
IPGate-HD32R Gateway Differentiators
Standards-based encapsulation: CESoP, TDMoP, SAToP, and PWE3
JITC Certification and APL status
Industry's widest repertoire of supported legacy data and voice interfaces
Multiple clocking options
Enables IP transport over commercial IP routers and switches
User-friendly management software with intuitive HMI
IPv4 and IPv6 support
Remote Test and Monitor (T&M) access for most interface types
High availability design with enhanced redundancy
Hot swappable cards for low MTTR
FIPS 140-2 Encryption (optional)
Looking for Legacy Circuit to MPLS Gateway? Review our featured IPGate MG50
Legacy Circuit to IP Gateway Uses
Serial Circuit migration to IP networks (Everything-over-IP)
Virtual matrix switch: non-blocking any-to-any connections
Long Haul Secure Communication (LHSC) over IP
Radio-over-IP (RoIP)
Applications Diagram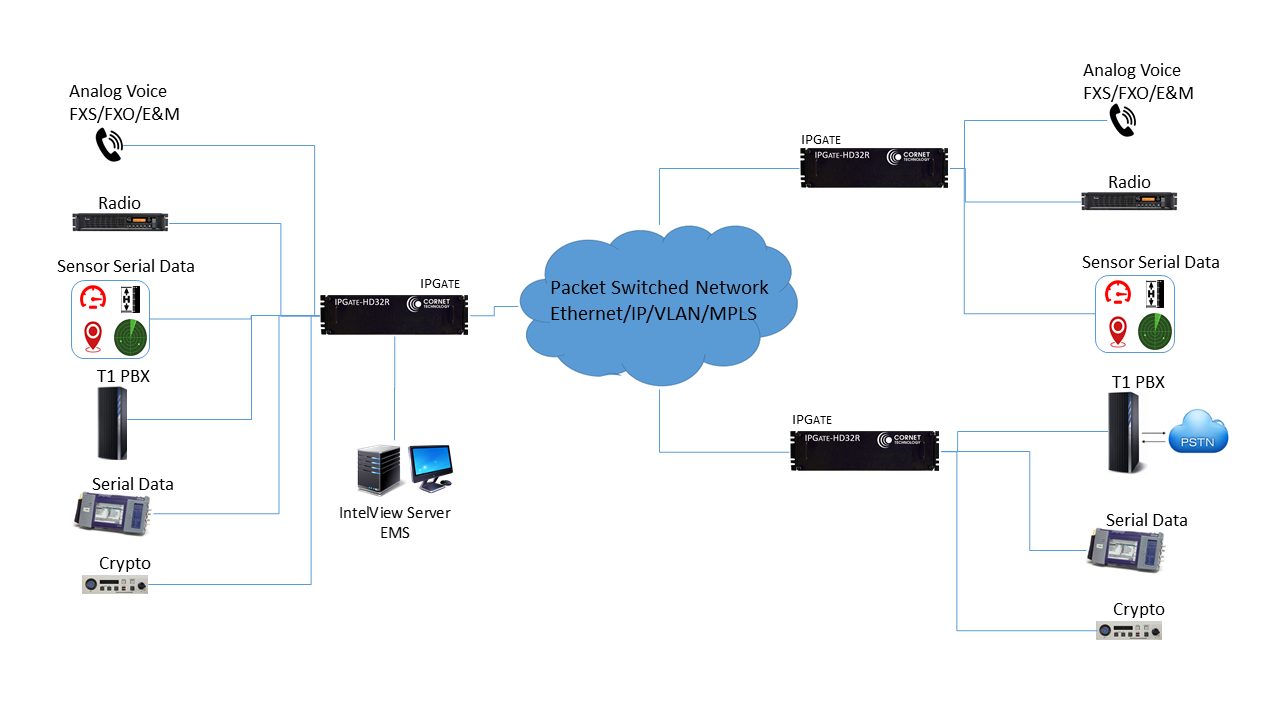 IPGate-HD32R Gateway Key Features
Converts legacy circuits to IP for transport over IP networks
State-of-the-art IP encapsulation: Circuit Emulation Services over Packet (CESoP), TDM over IP (TDMoP), Structure Agnostic TDM over Packet (SAToP), and Pseudo Wire Emulation Edge-to-Edge (PWE3) implementations
Supports wide variety of legacy data and voice interfaces
FIPS 140-2 Encryption (optional)
Built-in Test and Monitor remote access (monitor bus) without requiring external patch panel
High availability design with enhanced multiple component redundancy
Hot swappable modules/cards
Models for DC power input & AC power input
Comprehensive management software with user-friendly HMI
TDM Clocking Options:

Station Clock input
Clock recovery from T1-E1
Internal Clocking source- Stratum 3
Low speed WAN DTE/DCE interface timing
Clock recovery from CES packets (vi) Precision Timing Protocol (IEEE 1588 v2)