Subcontract is for exterior communications systems for the Coast Guard's new Offshore Patrol Cutter Program
Springfield. VA – February 21, 2017 – Cornet Technology, Inc (Cornet) is pleased to announce that it has been awarded a subcontract from Eastern Shipbuilding Group (ESG) for the design of an Exterior Communications Systems (XCS) for the U.S. Coast Guard Offshore Patrol Cutter (OPC) program. The subcontract encompasses the exterior communications detail design effort as well as shipsets for the first nine cutters to be built in ESG's two Panama City shipyards.

The Cornet XCS presents the Coast Guard with a Size, Weight and Power (SWaP) optimized reliable exterior-communications system designed to fit more capability into a smaller space, with lower weight, lower power consumption at a lower cost than solutions present in older WMEC cutter models. The Cornet XCS consists of its IP-based TVCS (Tactical Voice Communications Solution), its IPGate and TVCS InterConnect OMNI serial-to-IP gateway systems, the CT-5200 maritime IP voice and data terminals and its IntelView system administration and configuration software.
In addition to the XCS, Cornet will also develop and deliver custom user/operator human machine interface (HMI) applications, advanced remote radio control operations, and various voice-video-data systems integration solutions (VoIP, radio, satellite, cryptographic, interior communications, recording.)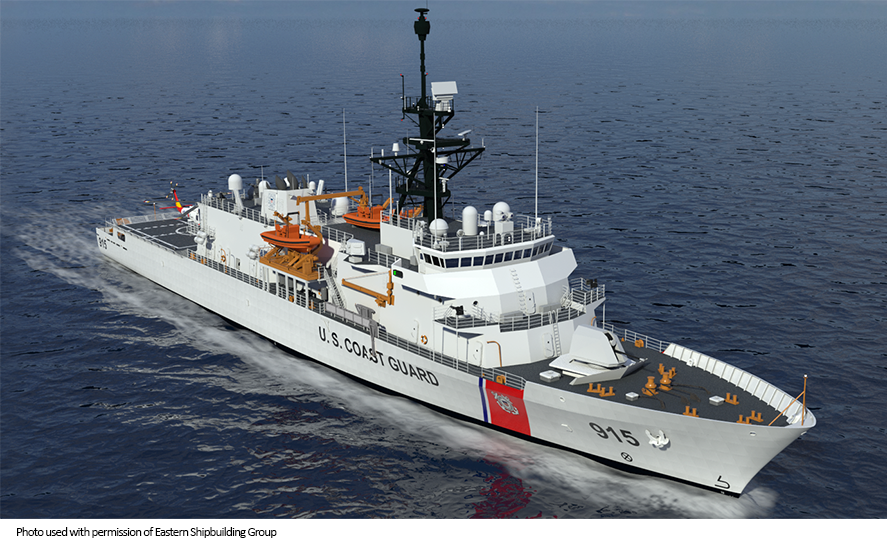 "Cornet Technology is very excited to be a part of the ESG team and to provide the Coast Guard with the ability to conduct ship-to-ship communications, ship-to-shore communications, and ship to aircraft communications all necessary to perform Coast Guard missions, said Mike Hardesty, vice president maritime and aviation of Cornet Technology, Inc. "We look forward to working with the ESG team on this strategically important, long-term initiative."
The OPCs will fill the gap between the 418-foot national security cutters and the close to shore 154 foot fast response cutters. Equipped with advanced Command, Control Communications, Computers, Intelligence, Surveillance and Reconnaissance (C4ISR) equipment and a flight deck for helicopter and unmanned aerial vehicles, the OPCs will conduct law enforcement, drug and migrant interdiction, search and rescue and other defense and homeland security missions.
Capable of deploying independently or as part of task groups, each OPC can serve as a mobile command and control platform for surge operations such as hurricane response, mass migration incidents and other events. Up to 25 OPCs are planned to replace the Coast Guard's aging fleet of medium endurance cutters, which have achieved between 30 to 50 years of service.
ABOUT CORNET TECHNOLOGY, INC.
Cornet Technology, Inc. is a leading secure/non-secure communications solutions supplier to the defense industry and commercial markets in the United States and overseas. Its solutions deliver voice, video, and data communications and video surveillance and distribution solutions to some of the world's most exacting users. Headquartered in Northern Virginia, Cornet has a wholly-owned subsidiary in India. All Cornet products are designed and manufactured in the U.S. at its 9001:2008 registered facility in Springfield, VA. Information on Cornet's solutions is available at www.cornet.com.
FOR ADDITIONAL INFORMATION CONTACT:
Arun Lal
Marketing Communications Director
703-658-3400
a.lal@cornet.com