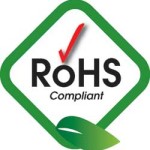 Concerns over the human health and environmental risks associated with the use of certain environmentally-sensitive materials in electronic products has led the European Union ("EU") to enact the Directive on the Restriction of the use of certain Hazardous Substances (RoHS) in electronic products.
The following is the Cornet Technology, Inc. (CTI) position on achieving compliance with the RoHS Directive.
CTI is committed to designing, building, and shipping products that are in full compliance with RoHS except where it is widely recognized that there is no technically feasible alternative (as indicated by an exemption under the EU RoHS Directive).
All of CTI's products are designed for the Telecommunications environment and fall under the exemption for those products until 2010.
Key components such as BGA parts and press-fit connectors currently have no suitable RoHS replacements.
CTI is in transition towards RoHS-compliant products and processes. However, our progress is dependent upon our supplier's readiness and capability to make RoHS-compliant parts and products available.
Many of our suppliers have begun to supply RoHS compliant parts. As these parts become available CTI will implement them.
We have determined that our existing assembly equipment will be able to handle these RoHS compliant parts.
All our assemblers are certified to the "IPC J-STD-001 Joint Industry Standard."
C4ISR Solutions Networking Video
Circuit to Packet Solutions Radio Crossbanding Tactical Switches
Tactical Computers Tactical Networking Nodes Home